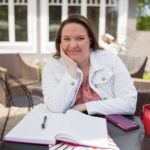 I'm excited to get to know you! Together we will X. For me, that starts with figuring out if our business values align and if my done-with-you services and strategy intensives are the perfect fit for you before we jump on a coffee chat.
Click the button below and fill out the form – I promise, it only takes a few minutes.
You can also send me a message directly on IG/FB. I can't wait to hear from you!
For current students or questions about any of my programs please use the chat bubble inside of the Subscriber Hub or email hello@jamierussells.com

If you are interested in collaborating, looking for speakers for an event (in-person or virtually), or want to interview me for your podcast — I'd be honored to connect and see how I can serve you best. Send all the details to hello@jamierussells.com and we will schedule some time to talk over coffee.
Please keep in mind – my "working hours" are typically 9a-3p Mon-Fri Central Standard Time so if you send me something on the weekend or on a U.S. Holiday, there's a high likelyhood you won't hear back until the next "working" day.
I'm excited about seeing your name pop-up in my inbox!

Many women do noble things,
but you surpass them all."
Proverbs 31:29